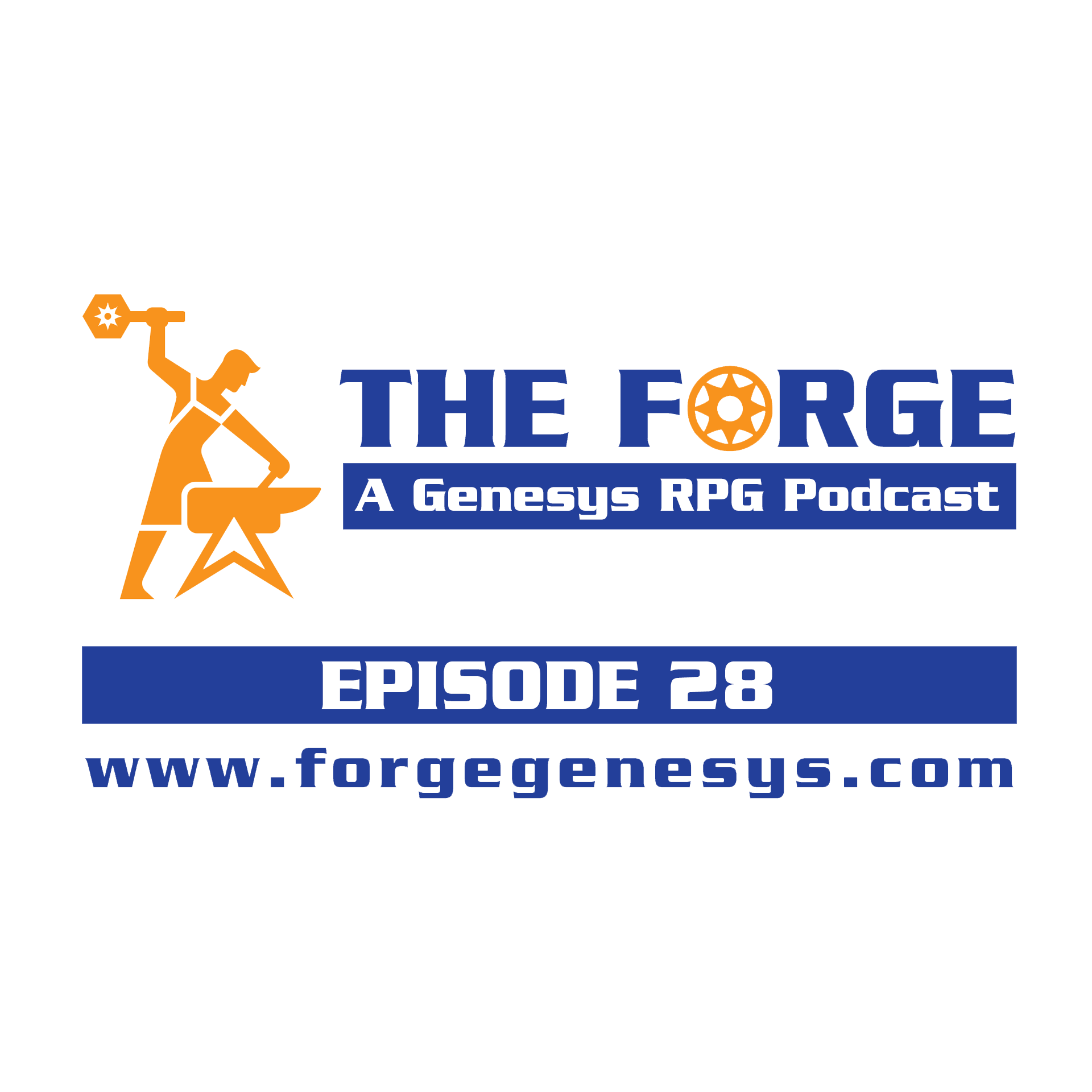 After yet another hiatus, GMs Chris and Hooly are back with another episode! This time they tackle the last of the big six archetypes with a look at archetypes created with the Presence attribute as its focus. They also speak with GM Phil and Brett Bowen from Studio 404 Games about their Mechasys setting book, and dig into the mailbag as the boys answer your burning games and rules questions.
So don your dinner jackets and niceries, as we sit down to negotiate the rights to another great show of The Forge: A Genesys RPG Podcast.
CONTACT US:
LISTEN/WATCH:
SUPPORT:
REVIEW:
iTunes (US) | iTunes (UK) | iTunes (Australia) | iTunes (Canada) | iTunes (Ireland) | iTunes (Germany) | iTunes (NZ)
Don't forget to drop us a review on Facebook, iTunes, YouTube or send us an e-mail.
The Forge: A Genesys RPG Podcast is a proud member of the d20 Radio Network. For more information about the network visit www.d20radio.com.
CHAPTER NOTES:
00:00:00 - PATREON ANNOUNCEMENT

00:00:45 - INTRODUCTION

00:07:01 - STOKING THE FIRE

00:07:11 - PODCAST OF THE WEEK

00:10:11 - STOKING THE FIRE - News & Announcements

00:19:01 - THE FURNACE: Presence Based Archetypes

01:44:12 - BREAKING THE MOULD: Mechasys with Studio 404 Games

02:29:36 - UNDER THE HAMMER

02:30:03 - Q1. Bucketload of XP 

02:49:26 - Q2. Disorienting Dilema

02:52:29 - Q3. Who to Take to a One Shot

03:01:01 - Q4. Strained Interactions

03:14:16 - WRAP UP